Identifying the very best food in Rome is no easy feat: not only is the sheer abundance of restaurants serving amazing meals remarkable but just thinking about the dishes alights some serious cravings…! The true cucina romana goes well beyond pasta and offers delicious dishes a discerning traveler should not miss: carciofi alla giudia (fried artichoke), the world famous cacio e pepe or carbonara pastas, lamb roasts, saltimbocca (classic veal dish), fiori di zucca (zuchinni flowers), bruschetta, pecorino cheese, coda (ox tail), amongst others.
Weve done our share of travelling, many a time to Roma, and are pleased to show you some of our favorite restaurants:
Da Felice: If you have to choose a single restaurant to go to in Rome, this is the one. Put simply: scrumptious! This    family owned trattoria is located in Testaccio, and although you will unlikely be staying in the region, a ten-minute taxi ride will lead you to this unmissable venue and its delightfully mouth-watering menu. The freshly renovated ambiance is cozy and modern, with brick walls, tiled flooring and black lampshades. We started with salads and melanzane parmigiana, baked aubergine (eggplant) with tomato sauce and cheese. And then of course we ordered the cacio e pepe pasta, for which the house is deservedly very famous. After having tried this pasta in many Roman restaurants, we attest to the veracity of the verdict, Da Felice´s cacio e pepe is the finest in town. A fellow traveler at a neighboring table suggested we follow with roasted lamb, advice which we never regretted taking, since it was cooked to perfection and truly delicious. As a last act, dinner could not finish more splendidly than with the house's outstanding tiramisu. There is an extensive wine list from which you should easily find a perfect accompaniment to your dishes. Reservations are essential to ensure you have an opportunity to sample such delightful food.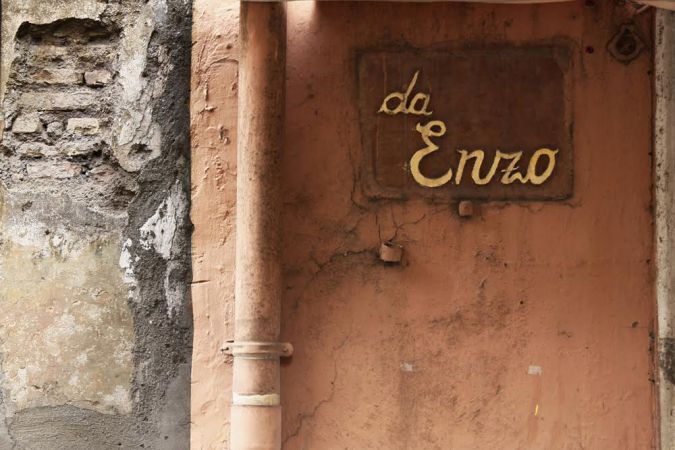 Da Enzo: a New York caterer, whom we met during our last visit to Rome, told us not to miss the laid back Da Enzo. Days later, when visiting Roman friends at their summerhouse, food was "the" topic of conversation and we were pleasantly surprised to be told once again to try Da Enzo. Even though it is located in the ever more popular Trastevere, Da Enzo is in the less touristic part and has maintained its standard of excellence and authenticity in preparing traditional nonna's food. No further recommendations were needed and off we went in a party of seven, conveniently suited for ordering many dishes to share and hence try a bit of everything. We started the feast with tasty burratas and fiori di zucca, followed by main courses including a perfectly "al dente" and well-balanced cacio e pepe, as well as pasta with guanciale. The highlight of the night was a succulent coda (ox tail) cooked for many hours in an exquisite sauce. We a made a slight effort to skip tiramisu but soon gave in and most certainly did not complain about the twist in the original recipe, theirs includes Nutella. If available, we also recommend the pleasant wild fragole (wild berry) with whipped cream. The lines outside are a good sign of what is to come… Prices are in the lower range, décor is frugal and Da Enzo is the type of place to enjoy delicious food you would probably have at a nonna's house. It is worth mentioning that Da Enzo offers only house wine, which we felt simplified our beverage choices and freed up time to focus on choosing amongst the many delicious dishes. Reservations depend a bit on the owners' mood.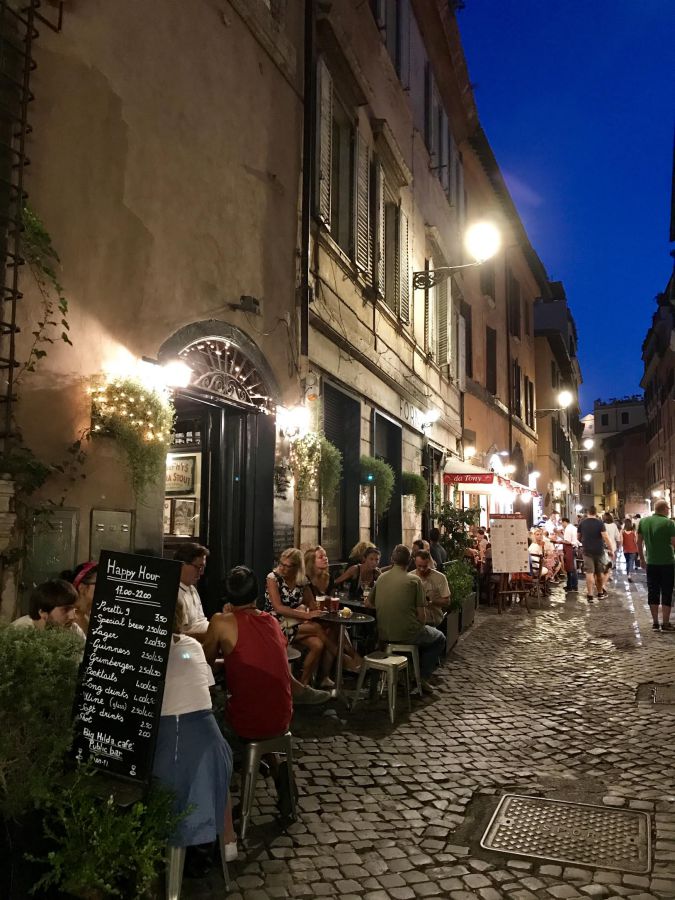 Taverna Trilussa: also located in Trastevere, Rome's old trade and slaughterhouse area, where the city's most original and traditional foods can still be found. The Trilussa has an unpretentious setting with a quite charming outside area, especially pleasant in warm evenings and a perfect backdrop for the delectable food that is to be enjoyed. We started our joyful evening with appetizing baked mozzarella and Italian prosciutto followed by creamy ravioli with a filling that is the house's secret, worth every calorie. The homemade tagliolini with black truffles was to die for, and we found it amusing to have it served in the pan where it was prepared. The grand finale was a sweet sensation: a trio of small desserts that included tiramisu, dark chocolate mousse and berries with cream. The wine list is very good as well. Make the most of your evening and take a stroll around the labyrinth of typical dimly lit cobblestone Roman streets after dinner, it will be a memorable night. The Taverna Trilussa is becoming less of a secret, so reservations are a must.
We have been to Rome many times and the amount of superb restaurants is mesmerizing (check this link on Rome for more options). We like to be in the know and try all the places we recommend. Our next trip to Rome is imminent and we have a list of venues to be visited and reviewed, includingthe unique Salumeria Roscioli, the chic Dal Bolognese and a visit to the Mercato Centrale food hall. Reviews will be available soon, so stay tuned.
By Suite 49 Travels