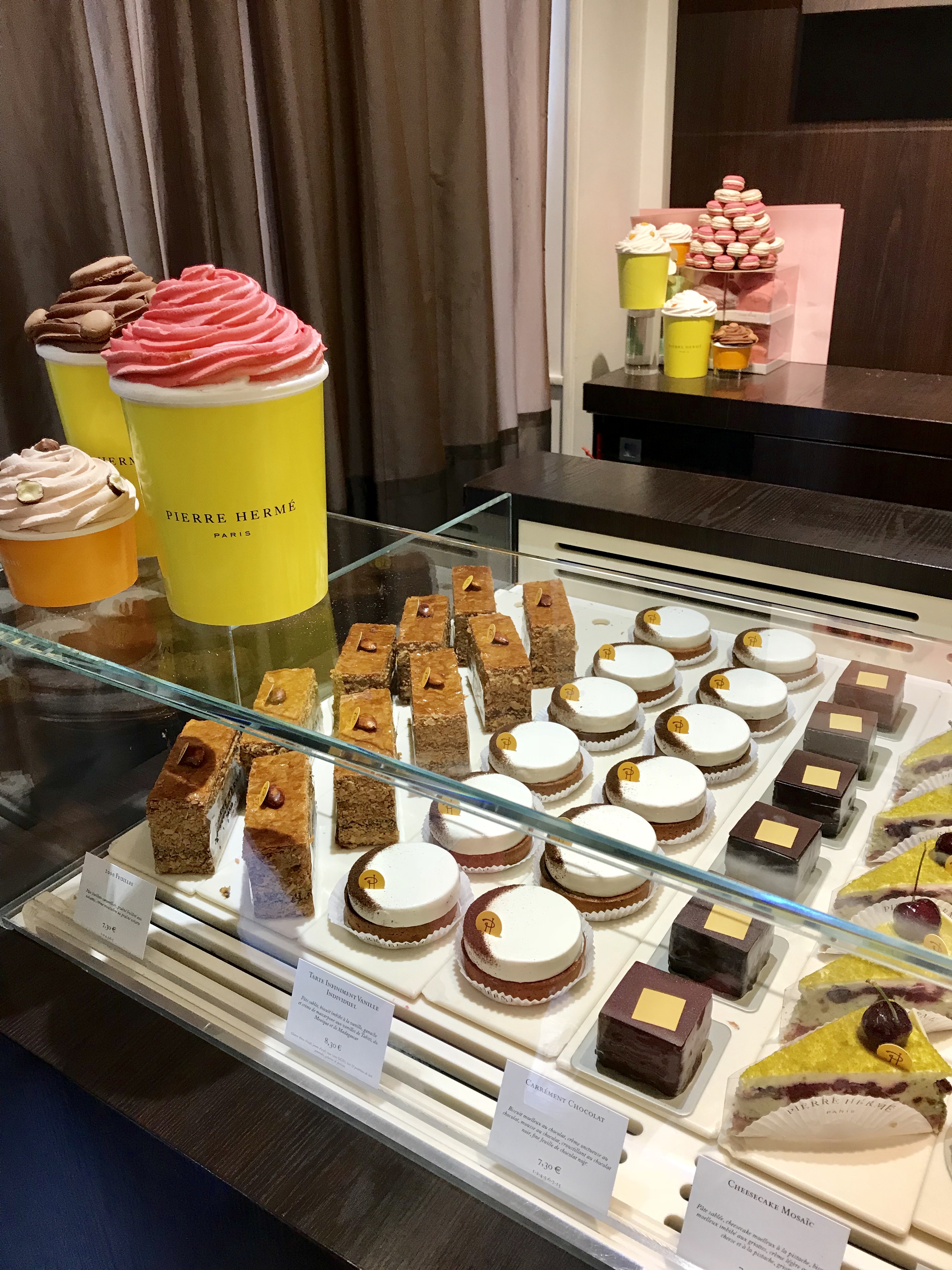 Paris is a city that most travelers praise, not only for its outstanding amount of attractions, but for the romantic lure and a cuisine that is acclaimed all over the world. But what about its pâtisseries? Cities with high standards of quality, like London or Tokyo, often hire French pâtissiers (pastry chefs) for their premium bakeries and pastry shops, an indication of how good the French ones are. Our most recent, and very long, stay in Paris was filled with delicious crêpes, mouthwatering mousses, ice-creams comparable to the Italian ones, and the local éclairs, not to mention other specialties like macarons, mille-feuilles and crème brûlées. So, how do we recommend the very best sweets in a city offering the world's most tempting selection per square mile? Well, we take our tasks very seriously and knew there was only one way to make sure we could bring you the best options possible: try as many as we could, ignoring any type of calorie counting and applying meticulous scrutiny to the enjoyment of every flavor and texture in a joie de vivre spirit.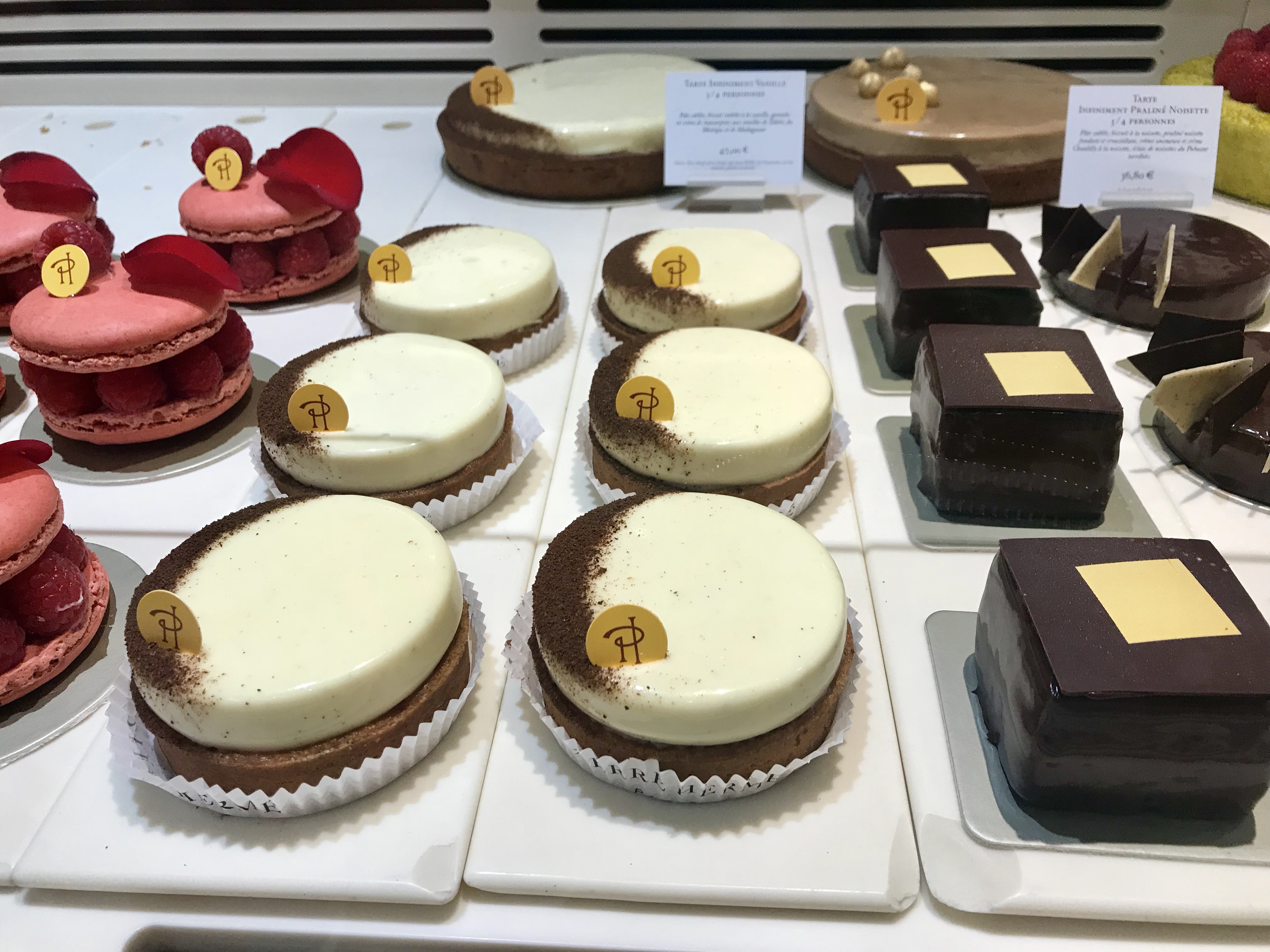 Let us get started with the typical French pâtisserie. Do not waste any time and head straight to Pierre Hermé, one of our preferred shops in town. There are outlets at many different addresses, all of them very similar in the outstanding quality of what is on offer. We recommend the largest Pierre Hermé at Champs-Élysées, with a broad range of sweets, pies and tarts available, a terrace where you can people watch while sipping tea or coffee and tasting delicacies, and a charming indoor corner area selling L'Occitane products. For smaller and more intimate places check any of the stores close to you, ours was in Saint Germain des Prés. Monsieur Hermé reached fame with his Ispahans, biscuits filled with raspberries and the creative use of roses as an ingredient. Our personal favorites, in fact, are the scrumptious 2000 feuilles, the Ultime with its perfect chocolate balance and the small pies with almond dough, pistachio cream and strawberries on top. The shop windows are pure seduction!
Only recently, another maître pâtissier has been awarded the best of the year, Mr Cedric Grolet. Previously responsible for pastries at the luxurious Le Meurice hotel, Monsieur Grolet opened up his own shop just around the hotel's corner. Eye-catching desserts that look like sculptures, some of them in the shape of fruits that resemble the real thing, the shop's window is a feast for your eyes, and of course what they sell is amazingly good. If you want to give it a try be aware that it is a bit expensive, but as Grolet is the hottest chef pâtissier in town, it is worth it. We recommend the unique fruit options, since they are seasonal and mostly distinctive from what you may find elsewhere.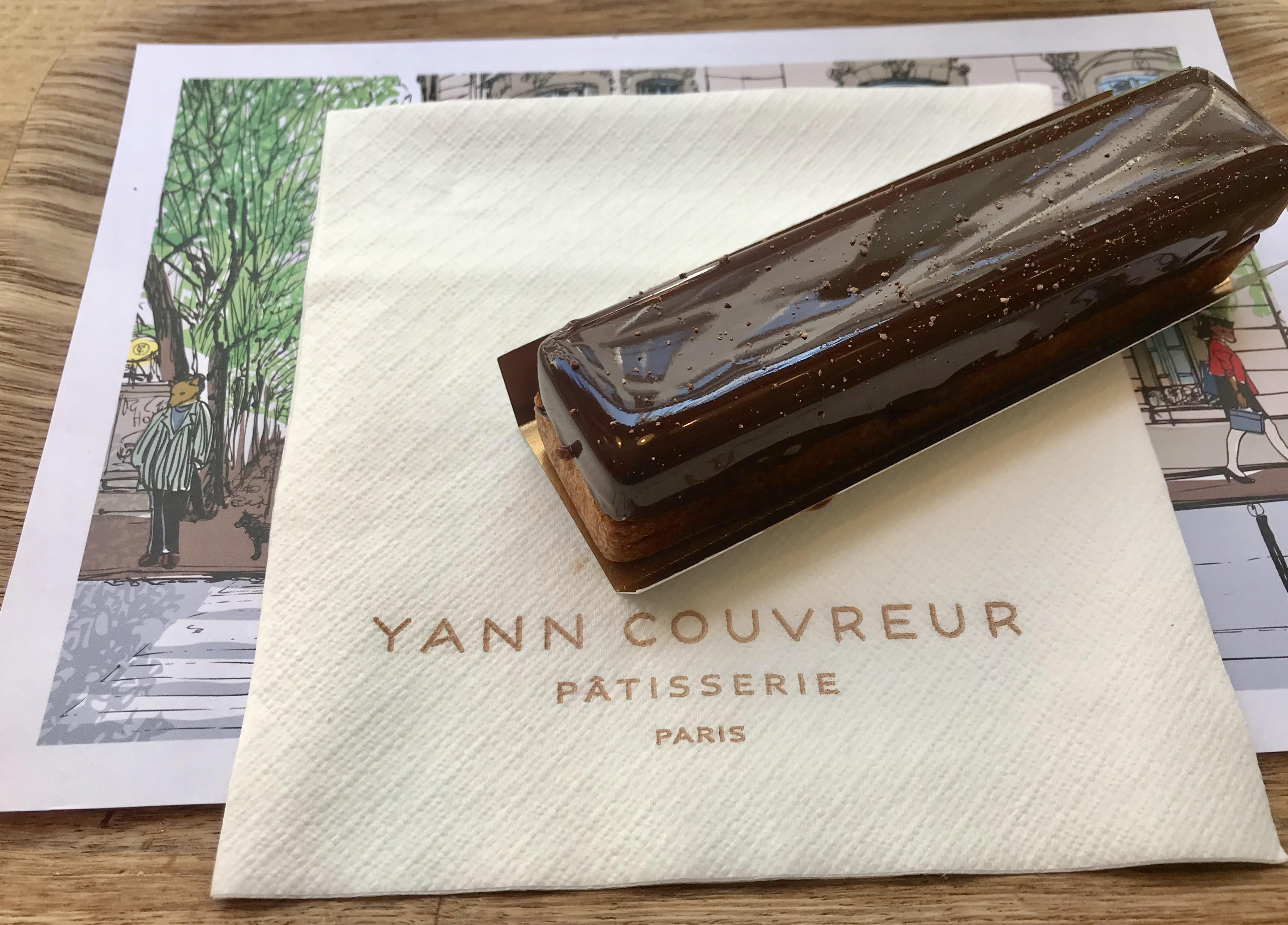 Not previously on our list, local word of mouth led us to Yann Couvreur. There is a very convenient shop in Marais, which you will probably visit if you are spending some days in town, and two other locations. The shop is not as fancy as some of the other ones, but there are stools and small tables for your convenience when tasting their goods. Do not leave without trying the square lemon pies with merengue or the tonka chocolate éclair, probably the best we had in town with a perfect choux doughanddark chocolate on top, or the incredible mille-feuilles prepared with vanilla from Madagascar.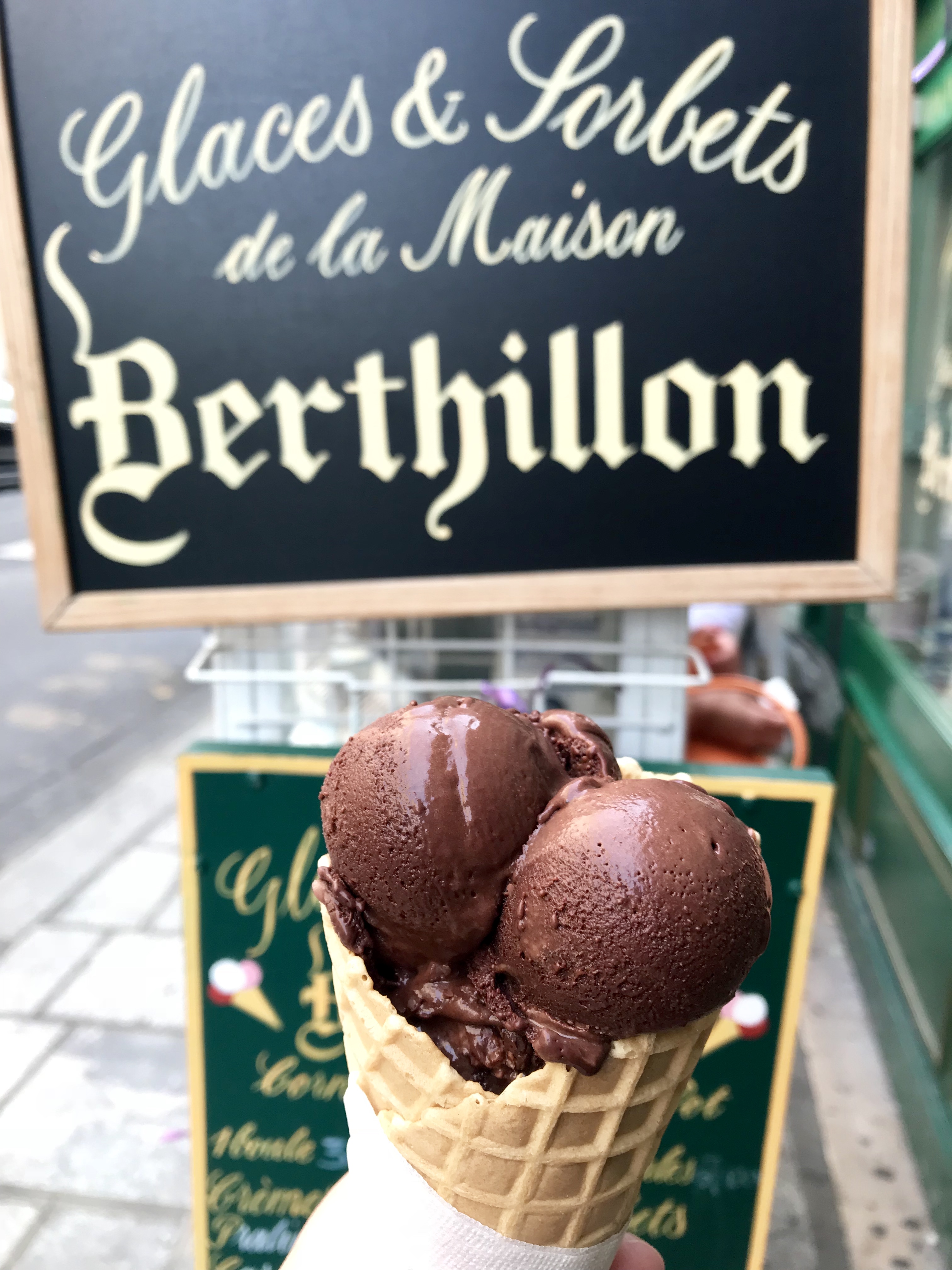 If your days in town are in cold weather, enjoy a hot chocolate at Angelina. The original shop, and tea house, on Rue de Rivoli near the Louvre museum and Tuileries gardens, is our favorite. They also serve sandwiches and other cafe-like snacks, but the tea hour is the most demanded one and their rich thick hot chocolate is world famous. Angelina has opened up new shops in recent years, like the one by the Pantheon or in Luxembourg Gardens. Now, if temperatures are on the rise and you are facing warm Parisian days, do not miss the best ice-cream in France at Berthillon on Île de la Cité. Chances of finding huge lines at the store entrance are high, however the shop's owners were very smart, and instead of expanding or opening new venues in order to serve more clients, they distributed their ice cream to restaurants, bars and cafes in the surrounding streets. So, if lines are a tad too big for your fancy, just find the signs "we sell Berthillon here" and go for it. Our preferred scoops? Dark chocolate, fondant, mango, nougat and honey, figs and seasonal rhubarb, but as they carry around 70 different flavors, there will surely be one to please you!
Is tradition what you are looking for? Then head to Debauve et Gallais, a shop in Saint Germain des Prés that used to cater chocolates to the French royal families and Napoleon himself. Some of its most famous chocolates are its pastilles, chocolate lover Marie Antoinette's favorites and with pretty wrapping paper depicting the queen's faces. You may also try Napoleon's most enjoyed sweets, the croquamandes, crunchy almonds covered in dark chocolate. The shop itself is very classical and classy. If you want to keep up with the tradition, try the oldest pâtisserie in Paris, Stohrer. The sole shop, at Rue Montorgueil, was founded in the 18th Century by a Polish baker working in Versailles and who served King Louis XV. It is credited with inventing one of France's most renowned desserts, the baba au rhum, but there are many other classical French pastries on offer as well.
In recent years Paris has seen a rise in interest for specialty shops. Nowadays, you will find houses that specialize on particular types of French sweets. We were very glad to have come across Chapon by accident: even though you can find chocolates and ice cream, what is really interesting about this shop is its unique mousse bar, displaying different mousses from milk to dark chocolate and with cocoa coming from countries like Ghana, Peru and Ecuador. And, as a trip to Paris would not be complete without trying some typically local éclairs, we found the perfect specialty shop to appease your cravings: L'Éclair de Genie. With more than one shop in town and many different flavors, our mouths water for salted caramel, pecans in vanilla cream and the bitter sweet passion fruit and raspberries. And it would be impolite, of course, to leave town without tasting (and taking home) some super French macarons. A discussion with local residents to determine the best macarons in town might take hours and some heated arguments, but Ladurée is a very good option and their classic flavors are delicious: pistachio, caramel, lemon and orange. But let us also suggest you try the Mogador, chocolate with passion fruit macaron, at Pierre Hermé.
Do you know the difference between crêpes and galettes? The former are sweet and the latter savory! Even though you will find crêpe trucks all over Paris, make sure you try the ones at Breizh: simply delicious, considered the best in town, and the venue also offers full meals of good quality, so check it out! You can start with some very local galettes, there is a large selection to choose from. Our order was an asparagus and cheese on sarrasin dough served with an egg on top, and also the very French truffles, ementhal cheese and mushrooms, so delicious. They can also be served as rolls, a smaller rolled version of the galettes. And then get the real thing: a Nutella crepe, or some caramel and fruits versions. If the weather is good ask for a table outside and have a meal a la mode Parisian.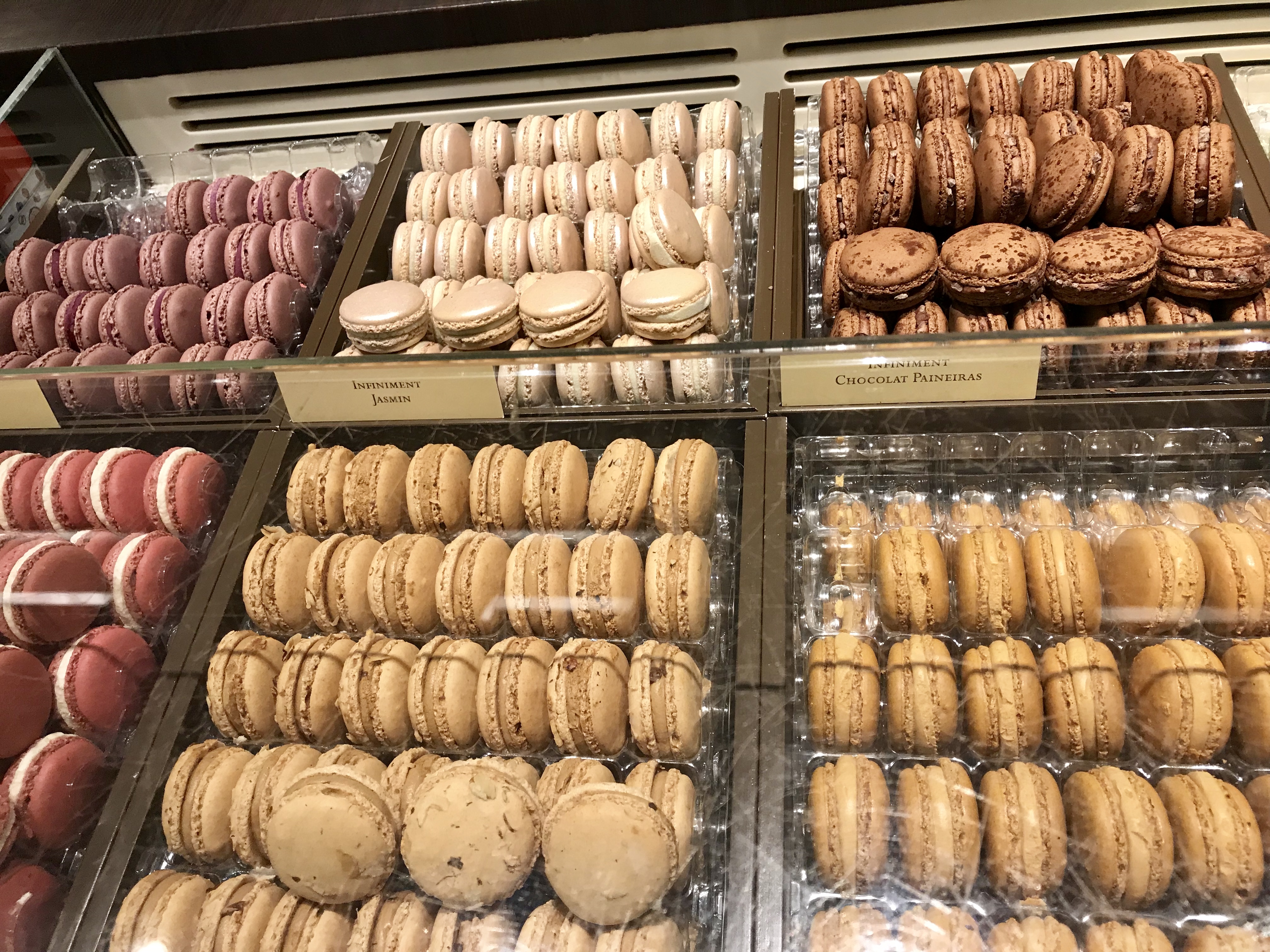 And do you know what is the best of it all? You can forget the calorie count as somehow the Parisian sweets are so wonderful that you will unlikely gain any weight!
By Suite 49 team.